The Bible's antidote to domestic violence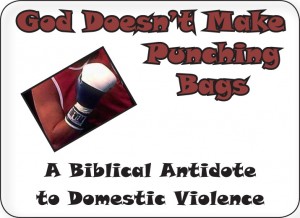 A 30-minute talk
Intro to God Doesn't Make Punching Bags
(click on the above link to view a YouTube link introducing my presentation)
Apostle Paul's antidote to domestic violence
Through this presentation, you will learn
– why some men batter
– how the New Testament teaches an antidote to domestic violence
– how to identify a relationship that can lead to violence.
My background includes a master's degree in theology and two traditionally published books. The first is "Hidden Voices: Biblical Women and Our Christian Heritage," published by Smyth & Helwys and cited in three other books.
My second book, "Keeping Sabbath: Daily Life," was published by Circle Books/John Hunt Publishing, and is part of the United Church of Christ Faith Practices series.
More than 150 of my news stories have appeared on DisciplesWorld.com. Hundreds of my articles have appeared in publications around the world.
I am available to give presentations on topics related to women in the Bible. I look forward to hearing from you.
Others' comments:
"Heidi Bright spoke to the church's Women's Group in a very compassionate and knowledgeable way.  I was impressed with the way she was able to weave her own personal experiences into an informative and biblically based presentation.  I'd recommend her to anyone interested in knowing more about this sensitive and important topic."
–The Rev. Chris White, Pastor, Christ Presbyterian Church
"This was a wonderful presentation. I loved the biblical approach with compassion and understanding. The factual information really brought a horrible problem to the surface. The statistics are shocking."
–Erica Brenner
"Excellent knowledge of the subject. Great structure; nice background information. Good use of statistics: not too many, but very effective."
–Susan M.
"You speak very clearly!"
–Fletcher
"Lots of great examples and buildup."
–Jim O.
"The message is vital to help women (and men) to live more peacefully in the Spirit… the audience was spellbound."
–Carol K.
"A lot of great information. Good use of statistics. Made your points without overwhelming us."
–Chris N.